Answers to your Questions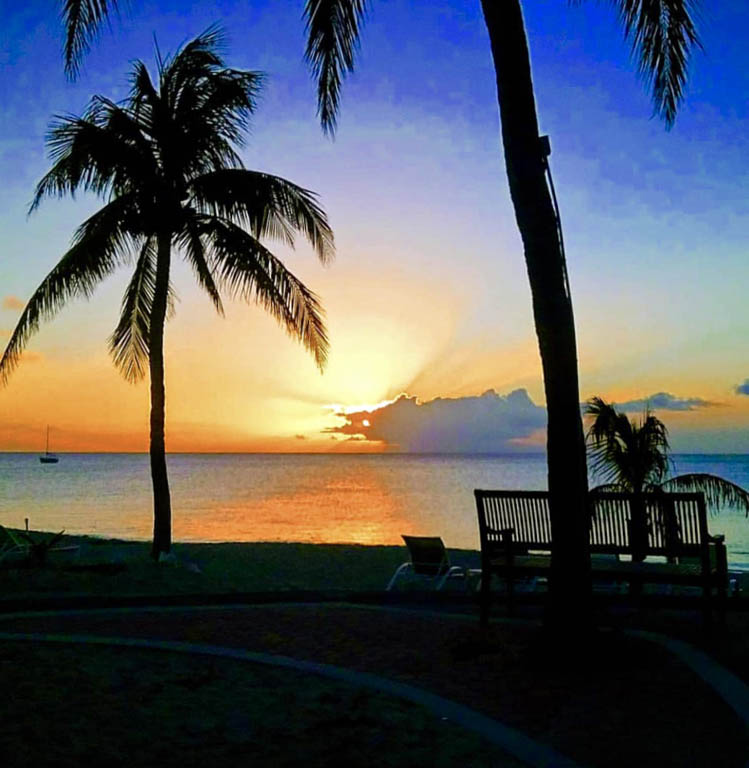 1Do you offer airport transportation
No, but taxi vans are readily accessible at the airport for a reasonable fee. We do suggest renting a car.
2How far are you from the Airport?
3Will someone be in the office to check me in?
Absolutely! Our office officially closes at 9:00 p.m., but we always have a staff member or security guard on site to check in any late night arrivals. There are several late night flights per week, so we are accustomed to waiting up for late check ins.
4Do you have laundry facilities?
Yes, coin operated machines for guest use with soap available at the office.
5Do you offer breakfast?
No, we are considered a hotel and not a Bed and Breakfast. All but 3 of our cottages (Sylvia, Coco Bean, and Crew) have full kitchens, so our guests usually have breakfast in their cottages.
6What time is check in and check out?
Check in is 3pm Check out is 12 noon.
7Do you offer Wi-Fi?
Yes, full property, high speed coverage.
8Can you swim and snorkel at the Cottages?
Absolutely. Our beach is better than any other beach on the Island for swimming and snorkeling.
9Do you have a pool?
No, but there is a pool for adults available at the hotel next door (Sandcastle on the Beach) for a daily fee to our guests.
10Do you recommend renting a car?
Yes. St Croix is the biggest of the three US Virgin Islands and it is fun to explore by car. Rental cars are reasonably priced and driving on the left is easier than you would think considering people drive slowly and most roads are only one lane in each direction. It is as simple as following the car in front of you. You must be 25 years or older with a credit card to rent a car
11Do you provide towels and bed linens?
Yes, all linens, including beach towels are provided and do we have daily maid service ( except Sundays, Wednesdays and major holidays).
12Is it safe in St Croix or is crime a problem?
Yes, it is safe, however guests sometimes get too relaxed and let their guard down, which makes them vulnerable as a potential target. Petty theft can be a problem in St. Croix and all over the Caribbean. Be careful and follow all safety rules such as locking your doors and not walking to town at night. Crime is universal, but no more or no less in St Croix, and our property is secure and covered by video surveillance.
13Can you walk to town?
The walk into town is less than a mile and recommended for exercisers only during the day. We don't recommend walking into town to shop; it is a little too far and the objects you carry with you could make you a potential target for petty theft. The walk into town does have isolated areas with no sidewalks forcing you to walk in the street, which is also a hazard for guests. So, instead of walking, just borrow one of our bikes!
14Are there good resturants nearby?
Yes, in Frederiksted, we have a several fine dining establishments as well as beach bars and local cuisine. Please visit our Restaurants Tab on this website for a list of nearby restaurants.
15We are two couples traveling together, what Cottage do you recommend?
We do not have any two bedroom cottages so we recommend two separate cottages to ensure your comfort. Take advantage of the second cottage at half price offer in the summer season for select cottages. See our promotions page for adjoining cottages.
16Do you provide snorkling equipment?
Yes, we have a closet by the laundry room where guests leave their snorkeling equipment behind that is available for guest use. Otherwise, K-Mart sells low cost snorkeling equipment and the dive shops (just down the street) sell and rent equipment.
17Who do you recommend for Scuba Diving?
The island is excellent for Scuba Diving and highly recommended for beginners as well as experts. There are several scuba shops in Frederiksted, so just pick one - they are all good.
18Who do you recommend for Buck Island Tours?
We recommend Big Beards for a wonderful Buck Island experience, but most of the tour operators are good.
19Is noise an issue?
Generally, noise is not an issue, however, holidays and Sunday afternoons are the busiest beach days for the locals and noise can be a problem on those days. Carnival, which is the first week in January, can also be a rather festive and somewhat noisy time
20Do you have beach umbrellas?
Yes, we provide umbrellas at no charge to our guests and the coconut trees on the beach also provide shade for guests as well as our covered patio directly on the beach just 15 steps from the water's edge.
21Are there any ATM's?
There are no ATM's on the property but there are two ATM's located at the local banks on the waterfront in the downtown area of Frederiksted, and there is an ATM machine at Sandcastle on the Beach, just steps from our property
22Do you allow parties?
NO, we advertise as a private, quiet getaway for travelers to relax and enjoy the quiet waters of the west end of St Croix. We are not a party facility and do not have the parking for large get togethers of any kind. Our typical occupancy is approximately 50 people, and we prefer to keep it that way.
23Where do you buy groceries?
There is a grocery store just up the road from our Cottages at Hannah's Rest. There are also several larger grocery stores mid island.
24Is there Public Transportation?
Yes, buses and taxi's are available, but not recommended. It's easier to rent a car. The office staff can always assist guests in securing a taxi.
25Do cell phones work on the island?
Yes, most of the major US cellular providers work on the island, but the best coverage is offered by ATT. Check with your wireless provider before traveling to the USVI to see what your plan covers.
26Are there phones in the rooms?
No, however, most of our guests like the fact that there are no phones in the rooms.
27Do the Cottages have Air Conditioning?
Yes all cottages are air conditioned.
28Do you have Cable TV?
Yes, all Cottages have cable TV.
29Do you have DVD Players?
No, but we do have a book closet, game closet, and cable TV for entertainment.
30How far is it to drive from The Cottages to Christiansted?
Approximately 20 miles or about 30 minutes. Maps of the Island are available at the office.
31Do you have bikes and kayaks for guest use?
Yes, we have very well maintained, leased bikes for guest use. We also have one double kayak for guest use.
32"What do I need to know about traveling to St. Croix in the times of Covid?"
Travelers are no longer required to provide proof of vaccination or a negative Covid test.