History of Cottages by the Sea and the Benedict Family
Many people don't know that Cottages by the Sea is one of the oldest hotels on St. Croix that is still in business.  The story of Cottages by the Sea begins after World War II, when tourism started to blossom on the island.  Today, Cottages is still a small, quaint property owned and operated by the founding family, The Benedicts.  We offer our guests an authentic and genuine Caribbean escape, not only on a perfect stretch of beach, but with a rich history and a beautiful story as well.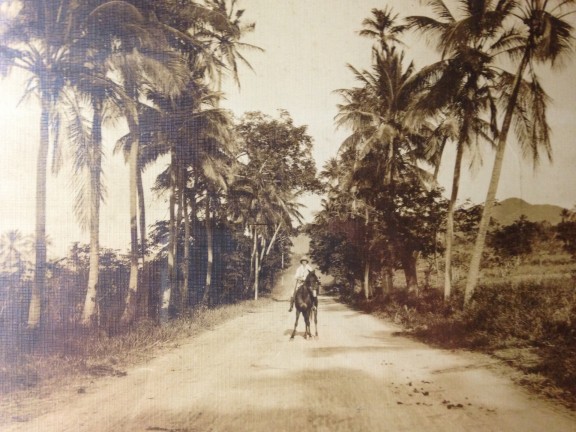 St. Croix Heritage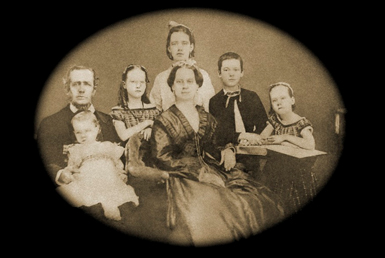 Our ancestors, with mostly Danish and British heritage, relocated to the island of St Croix from Denmark and neighboring islands as merchants, traders and medical doctors.  Back in those days, it was common for families to have many children.  Here is a photograph of our great-great Grandparents on our father's side, the Armstrongs, and some of their children.  The picture was taken in Christiansted, St. Croix circa 1875.
Our great-great grandmother's parents were of Dutch and Danish origin.  Her father was active in the Danish government.  In fact, he worked for Governor Peter von Scholten who was the legendary Danish governor that emancipated the slaves in the Danish West Indies (known today as the U.S. Virgin Islands) in 1848.
Our great-great grandfather was a busy merchant despite coming from a family of medical doctors.  In fact his father, brothers and some nephews were doctors who also practiced in Ponce, Puerto Rico since the 1840's, and even moved and started large families there.
The little girl on the far right in the picture is our great-grandmother Harriet Armstrong.  She met and married a man from Connecticut, Robert L. Merwin, who moved to St. Croix to work for her father, Francis Armstrong.  Harriet and Robert were married in 1887, and moved to Liberty Hall in the port city of Frederiksted, St. Croix to raise a large family of 6 children.  The six children were, Edith, Miles, Annie, Harriet, Genevieve and Martha.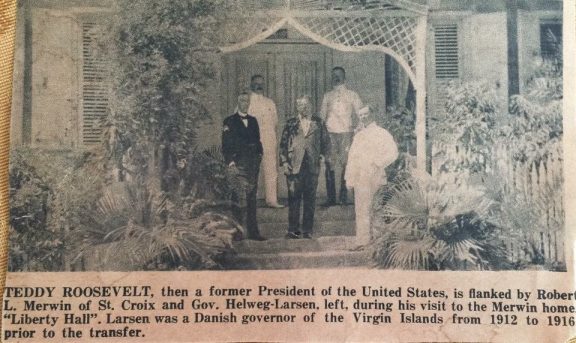 In 1916, Theodore Roosevelt and his wife, Edith, visited St Croix and spent time at Liberty Hall with the Merwin family.  This photo was taken the day they visited, February 18, 1916, and our grandmother, Genevieve, asked President Roosevelt and his wife for their autographs, and we, as a family, still have those autographs in our possession.  The photograph was later published in the local St Croix newspaper of the day.
Of  the Merwin children, Edith and Hattie never married or had any children, but Miles had six children and managed the family business, RL Merwin & Company. Miles raised his family at Sprat Hall Plantation house just north of Frederiksted, where his daughter, Joyce, later raised her own family and where she still lives to this day. Their sister, Annie, married Malcolm Skeoch who owned, managed and lived at the Diamond Distillery that later evolved into the Cruzan Rum Factory and still exists to this day.  Annie and Malcolm had three children. Please visit www.HistoryOfCruzanRum.com for the complete history.  The youngest sibling, Martha, married John Shultz, who was born and raised in Antigua, moved to St Croix when he was very young, and was a graduate of the US Naval Academy. John was captain of a heavy cruiser in the Navy during WWII and was a survivor of Pearl Harbor. Martha and John met and married young and never fell out of love, despite the many years of separation due to John's Naval career.  Martha and John had three sons and owned the south end of our property for many years. Several of their grandchildren still visit the cottages on a regular basis and our "Martha's Treat" Cottages is named after Martha Treat Merwin Shultz.
Our Great Grandfather, Robert L Merwin, was an American in a Danish Territory and he was very active in politics and the colonial council at the time.  In 1917, the United States of America bought the Danish West Indies from Denmark, and the islands were then renamed the US Virgin Islands.  On the day the island was to transfer ownership from Denmark to the United States, March 31st, 1917 (Transfer Day) our grandmother, Genevieve, was chosen to raise the American flag in Frederiksted.  Unfortunately, she could not raise the flag because she came down with Mumps that same day.  Soon Genevieve would have better luck when she met her husband–to-be, Harold J. Benedict.
Genevieve, our grandmother's, story continues below….
The Benedict Family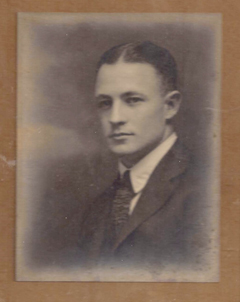 Our grandfather and founder of Cottages by the Sea, Harold Benedict, was born in St. Louis, MO in 1895.  He was a natural athlete and attended Exeter Academy Prep School and then Colgate University in New York, both on a football scholarship.
After one year of college at Colgate University, Harold, nicknamed "Benny", enlisted in the Marines in June of 1917 and ended up in France in the 6th MGB of the 4th Marine Brigade during WWI.  Unfortunately, Benny was severely wounded in the Battle of Belleau Wood in June of 1918 where he lost his leg.  This battle, though, was a proud moment for the Marines when they fought one of their greatest battles in history in which the German troops referred to their new enemy as "Devil Dogs", a nickname in which Marines share pride to this day.  Benny was then decorated as a war hero, having been awarded a Purple Heart and a Croix de Guerre Cross for the Battle at Belleau Wood.
After his discharge from the Military, Benny was able to finish his College degree at Colgate University, not on a football scholarship, but on the G.I. Bill afforded to him from his time served in the military.  Upon graduating with a degree in Education, Benny answered an ad published in the New York Times for a job on the island of St. Croix in the USVI to start a new private school, which was eventually called the Roosevelt School.  The ad was placed in the paper by Robert L. Merwin, the father of his future bride, Genevieve.  On July 3, 1923, Genevieve and Benny were married and their wedding picture was taken in front of Liberty Hall in downtown Frederiksted, the family home of the RL Merwin Family.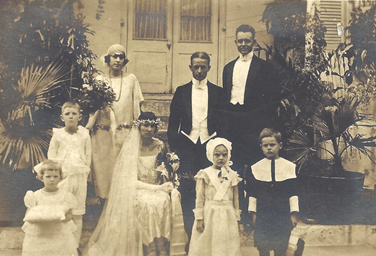 In the years that followed, Ben and Genevieve had 4 children, Harold, Patricia, Robert and Thomas.  With their growing family, the Benedicts purchased Hannah's Rest Great House located just up the hill from where Cottages by the Sea is still located today. This is where their youngest son, Tom, was born.  The years at Hannah's Rest were happy years.  During this time Benny served as principal of the Christiansted High School for 19 years where he taught a generation of young, bright Crucians History, English and Math.
Benny, known as Mr. Benedict to the children, decided to also teach the school children "American" sports, like Baseball.  St. Croix had just transferred from a Danish to an American territory in 1917, and the kids were mostly playing soccer and cricket.  Mr. Benedict bought gloves, bats and baseballs and was the umpire every Sunday afternoon.  He also was president and founder of a baseball league that even took a team to St. Thomas to play.
During this time, the school had a picnic at Sandy Point where Benny brought a homemade batch of root beer he learned how to make from his mother in their basement growing up in NY.  The community loved his homemade root beer!  Soon afterward, he quit his job in education and started his own business, "Sandy Point Products", a bottling company which made and distributed root beer and later Orange Crush and Old Colony Soda Pop.  The root beer was sold for 3 cents a bottle.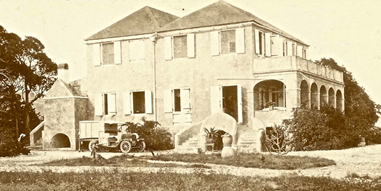 After a few prosperous years in business, Benny sold "Sandy Point Products" and Hannah's Rest Greathouse and moved the family to New Jersey for the kids to experience stateside living and education.  Before they departed the island in 1943, Ben and Gen purchased 5 acres of beachfront land just south of Frederiksted.  This land was their favorite beach because of the calm, clear, warm water, which made it easy for the one-legged, Ben, to enter and exit the waters for his daily swim. This is the land that is today Cottages by the Sea, The Beachside Cafe', and Sandcastle on the Beach.
The Hotel Beginnings
In 1948, Benny and Genevieve returned to St. Croix with only one of their children, Tom.  The other Benedict children, Hal, Bob and Pat were already married and starting families in New Jersey,  and later Florida.  Benny, Genevieve and Tom couldn't wait to build a new home on their gorgeous beachfront property near Sandy Point.
In the beginning, the Benedicts built a few simple solid cement structures for them to live.  With no electricity, Tom would read books by candlelight and the family realized how uniquely enjoyable the property was.  They had no neighbors from the south to Sandy Point, and to the north toward the town of Frederiksted.
By this time, Genevieve's cousins had recently started new hotels of their own, "The Buccaneer" at Shoy's Beach in Christiansted and "Sprat Hall", just north of Frederiksted.  Genevieve and Benny, with the help of their son, Tom, started to build more structures with the intent of renting out these "cottages" to guests who showed an interest in staying on their property. Gen, Ben and Tom lived on the property and soon got to know their new guests.  They started calling this new small business "Cottages by the Sea".  The guests enjoyed mingling with our island relatives, learning island history and hearing war stories from their hosts.
In the early years of Cottages by the Sea, Benny worked part-time in Frederiksted as a Travel Agent at Crawford's Travel, owned by Tom's cousin, Eileen Skeoch Crawford.  Genevieve was also part owner of RL Merwin and Co., another family business, and thus ran an Ice Cream Parlor on the waterfront in Frederiksted where Polly's at the Pier is today – still selling ice cream.  Genevieve also enjoyed making jewelry from shells and sea glass right off the beach to sell to tourists.  Tom also enlisted in the Air Force for a few years in the mid-fifties.
By 1955, Cottages by the Sea was a hotel business.  Genevieve and Benny were gracious and gregarious hoteliers.  Activities would center on the main patio where the guests would gather to watch the sunset, enjoy rum cocktails, and sing-along with Benny while he played the ukulele.   During the day, the guests were busy sunning, swimming and snorkeling – just like they do today.  The warm friendly community atmosphere, authentic Crucian hospitality, and fully equipped cottages kept the guests returning yearly.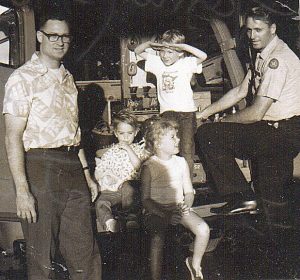 By 1965, Benny and Genevieve wanted to retire from the hotel business and spend more time with their four married children and 16 grandchildren in the states.  Instead of selling the business, they leased it out for the next 37 years.  The first lessee was the Smjeikel family until 1970, followed by Betty Little until 1980.  Pat and Mac McFee managed the property and business until 1990 when they sub-let the property to the Nortons, the Kings, and their daughter, Vicki until 2001.  Tom and Carol Benedict, with their son Paul, returned to St. Croix in 2001, to take back the lease and run the business again as a family.
Over the years, parts of the original 5 acre property were sold and a hotel and restaurant were developed to our north (adjacent to our property), which are still our neighbors, Sandcastle on the Beach (hotel) and The Beachside Cafe (restaurant).  Genevieve's sister, Martha Shultz, also lived and owned some of the property directly to our south, which the Benedict children later bought back, and the main part of the property, along with all of the original buildings,  is still Cottages by the Sea to this day.
Now, more than 75 years after the Benedict's purchased their beachfront property, the cottages consist of 29 rentable cottages, an office, laundry room, two public patios, and most of our cottages have been completely remodeled, with every cottage being completely unique in style and design.  Our location, on the West End of St. Croix, is off-the-beaten path and still offers an authentic Old-Caribbean feel on a perfect stretch of beach.
Tom Meets Carol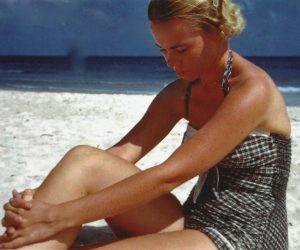 Our mother, Carol Jacobsen, was of Danish descent but not through the island of St. Croix. Carol came from a poor, Danish, farming family in Minneapolis, Minnesota. Danish was often spoken in her home as she was growing up, so she could always understand some Danish. Carol's father, Joachim "Joe", emigrated from Denmark to Minnesota as a young man where he met his wife, Agnes. Agnes' parents had also emigrated from Denmark where they were farmers.
Carol, after graduating with a nursing degree (RN) in June of 1957, visited St. Croix as part of a Lutheran Church work group. Carol immediately connected with the island, especially with the Danish population. The leaders of the Lutheran Church on St. Croix were impressed with Carol and offered her a position as Matron of the Lutheran Church orphanage in Frederiksted known as The Queen Louise Home (QLH). Carol accepted the position and moved back to St. Croix a few months later. Carol kept busy caring for the children and directing the staff of the QLH.
In the mid 1950s, Tom enlisted in the US Air Force and served his country in the Philippines during the Korean War. By 1958, he was back on St. Croix and living at Cottages by the Sea. On June 28, 1958 his parents threw a birthday party for him on the main patio of Cottages by the Sea. To Tom's delight, he met his future bride-to-be that night, Carol Jacobsen, from the Queen Louise Home. Tom's mother, Genevieve, had met Carol at one point and liked her, so invited Carol to Tom's birthday party.
Carol loved the beach at Cottages by the Sea and regularly brought the children from the orphanage down to swim where the water was calm and the beach was clean for the children to play. Of course, Tom would come out to see them when they were there.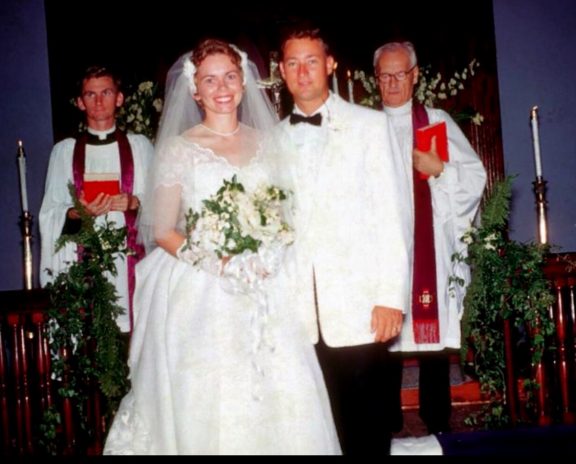 The rest is history……Carol and Tom were married at the Lutheran Church in Frederiksted in April 2, 1960. None of Carol's family could afford to make the trip from Minnesota for her wedding, so the children at the orphanage were her family. At that time, Tom's cousin, John David Merwin, was the governor of the Virgin Islands. With his attendance, and the rest of Tom's extended family, the wedding was grand and beautiful,
During their first year of marriage, Tom and Carol moved to the states, first to Minnesota and then to Florida to raise their 4 children, Patricia, Thomas Matthew, Ruth and Paul. The family visited St. Croix regularly during their years away from the island. In 2001, Tom, Carol and son, Paul, moved back to St. Croix to run the Cottages. Unfortunately, Carol passed away in January of 2012 after a 7 year battle with Alzheimer's Disease. We were able to keep Carol on the property and care for her during her final years. Without the love and companionship of the love of his life, Carol, and after an 11 year battle with Parkinson's Disease, Tom passed away 14 months later on March 15, 2013. Both of our parents are buried at Kings Hill, mid-island, off of Centerline Road, but their spirit and influence lives on at Cottages by the Sea where they are fondly remembered.
2017 brought terrible destruction to the Caribbean with two Category 5 hurricanes, Irma and Maria, both affecting St Croix, St Thomas and St John. The intense eye of Maria passed over our Cottages and Frederiksted on September 19, causing widespread damage and devastation island wide. We were blessed to have only received minimal damage to the structures of our buildings, and after months of cleaning up our property, fixing the damage to the cottages, and waiting patiently for mother nature to return all of the sand to our beach that blew away in the storm, we put the past behind us and pressed forward with a new sense of love, community and endurance. 2020 brought the worldwide shutdown due to COVID 19, but despite periods of island wide shut downs and travel restrictions, our cottages continued to prosper and move forward.